---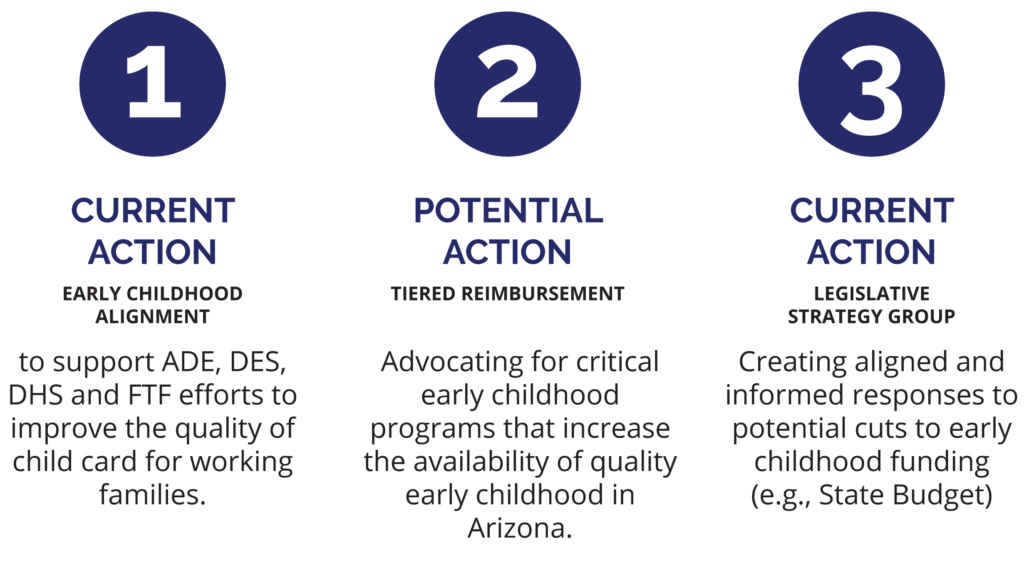 Four key stakeholder groups work together through AZECA to reach our goal:
AZECA early childhood experts create a shared voice for early childhood in Arizona
AZECA business and community leaders are engaged and provided opportunities to take on Arizona early childhood issues that impact workforce development and the economy
Government officials receive credible resources to improve early childhood policy; and
Constituents are informed and engaged independently by AZECA members
Current Short Term Goals (Reaffirmed in June 2016)
1. Preserve Current 0-8 investments during legislative session by:
a. Supporting the continuation of First Things First Funding Fortunately, during the 2017 session, no attempts were made to sweep FTF funding. The Legislative Strategy team, as well as members of the Partnership continue to provide policymakers with important data and information regarding the work of FTF and the importance of maintaining those investments. One example of those activities includes our Early Childhood Day at the Legislature.
b. Preventing cuts to early childhood priorities, including child care vouchers and human services The Legislative Strategy Committee, as well as the Leadership Team advocated for increases to funding in these vital areas. One strategy that AZECA worked on this session was Tiered Reimbursement for child care subsidy. High quality providers would be reimbursed at a higher rate to pay for the cost of quality and to encourage families to seek out this level of care. The AZECA CCDBG Task Force created a set of statewide recommendations for implementation of this strategy and we were able to get a bill sponsored to move it forward. We were unsuccessful this past legislative session in getting our bill passed but we continue to work with policy makers on getting it implemented in the future. We were also successful in working with our partners to get an increase of $2 million dollars for AZEIP. We did not lose funding in any of our other vital priority areas.
c. Preventing K-3 cuts The Legislative Strategy Committee as well as the Leadership Team continued to advocate to maintain funding in the Move On When Reading program. In addition, the budget included $20 million in additional funding for early literacy programs. $8 million for FY18 and $12 million for FY19.
2. Shape implementation/improvements in Child Care Development Block Grant
The CCDBG Implementation Task Force has met monthly throughout the year to continue discussion and development of recommendations to DES regarding the implementation of the reauthorized CCDBG. In addition to the tiered reimbursement recommendations noted above and comments on the state draft child care plan, the Task Force developed and submitted recommendations regarding group size and more regular release of the wait list when funding becomes available. The Task Force recently made the decision become a permanent subcommittee and will begin focusing now on Early Childhood Education Alignment.
3. Recommend an early childhood indicator and goal for the Expect More Arizona Progress Meter.
The AZECA Leadership Team was tasked this past year to recommend an early childhood education indicator for the EMA Progress Meter. The Progress Meter was created to establish statewide, mutually agreed upon measures of educational progress and to set goals for where the state should be in 2030 and beyond. The preschool indicator selected is the number of 3 and 4-year old's in quality preschool programs, with quality being defined by agreed upon measures. Once the indicator was set, the Leadership Team undertook the task of collecting the baseline data, which currently stands at 22 percent. The 2030 goal was set at 40 percent. The Leadership Team is currently discussing the key strategies that will help Arizona move toward that goal. The expectation is that AZECA will work with the early childhood stakeholders on implementation of those strategies.
Professional Development- FTF taking the lead role on this issue
First Things First continues the work of the Professional Development Work Group. A number of subcommittee's have been formed to work on the various issues that have been identified. The PDWG is moving forward with its' Strategic Plan.
Early Literacy- Read On AZ is taking the lead role on this issue
Read On Arizona continues to guide state efforts to improve outcomes for early literacy (B-8), priorities include: Language/Literacy, Screening/Assessment, Professional Development, Family Engagement. Recent accomplishments:
Worked to help set a 3rd grade ELA Goal for Arizona of 72% by 2030 and 90% by 2039.
A K-3 Ad Hoc committee for the State Board of Education made recommendations to improve MOWR legislation that were adopted by the board and resulted in SB1131.
A dyslexia work group under Rep. Norgaard guided the creation/development of a new Arizona Dyslexia Handbook for Teachers and Families and resulted in SB2202.
NGA Task Force- coordinating work of state team, includes PD module for Continuum of Effective Literacy Practices and social emotional development.
Launched Smart Talk, a language and literacy awareness campaign, for 0-3.
Tracking local city based and municipality initiatives
Two local, city based initiatives continue to work toward increased investments and expansion of quality early childhood education. The city of Tempe recently completed its Feasibility Study resulting in a decision by the City Council to expand their city based preschool program. The City made an investment of $3 million dollars to reach this goal. In Tucson, the Strong Start Tucson initiative is collecting signatures to request a ½ cent increase in the sales tax to fund quality preschool in the city of Tucson. They expect to be placed on the ballot in November 2017.
Alignment with DHS licensure
The ECE Alignment subcommittee (previously CCDBG Implementation Task Force) is currently identifying areas in which the entire ECE system can better align. DHS Licensure is a part of that committee and we are just beginning to identify the gaps that might be addressed.
Federal Legislation and Budget Tracking
We continue to follow and report out relevant data and information regarding federal legislation and budget issues.