February 15, 2018 is Early Childhood Day at the Legislature. This year, the event will be held in the Rose Garden. We hope you can join us. Registration is open now!
Register Now
Come join us for coffee in the Rose Garden! Early childhood champions are gathering to raise awareness of the importance of the early years at Early Childhood Legislative Day.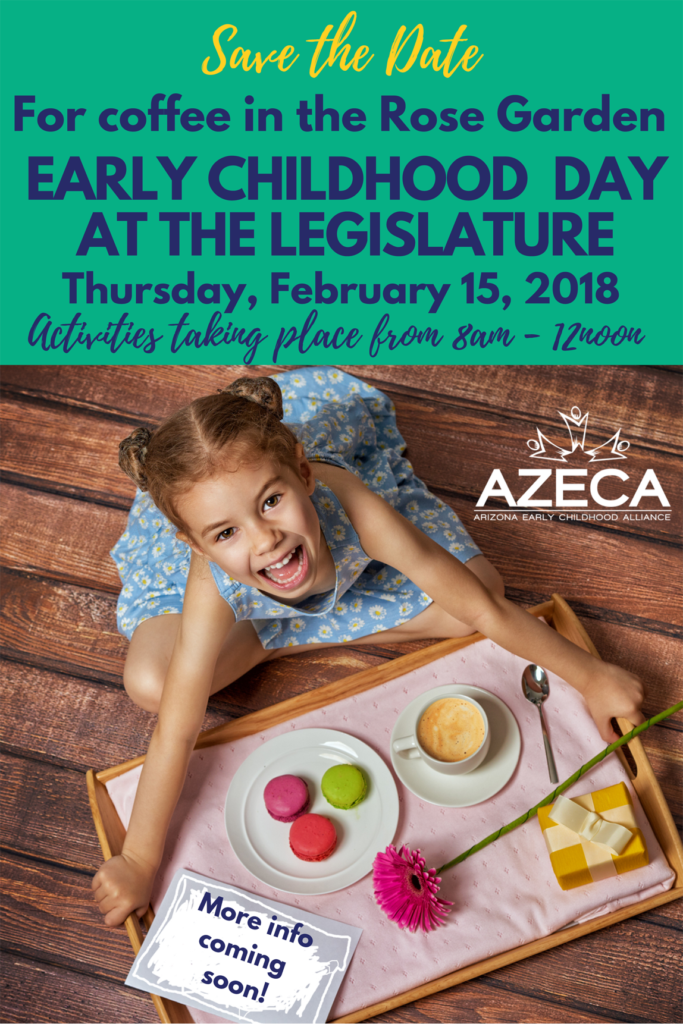 Network with friends and legislators, as we show how early childhood development and health contribute to healthy children, third grade literacy, enhanced economic development and strong communities!
This is a vital opportunity to show policymakers how early childhood links to their priorities and the impact early childhood investments have made in communities across our beautiful state. If you like, you can choose to participate in several activities including visiting with your legislators and viewing a House or Senate committee in action. Participants can learn how to schedule legislator visits by watching this brief power point presentation.
To find out what district you are in and who your legislators are visit: https://azredistricting.org/districtlocator/
When you get there, be sure to stop by the information area in the Rose Garden for a schedule of events and information you can share with legislators and staff.
Tentative Schedule of Events
7:00-7-45  Site Set Up
7:45  Check- In Begins
8:00-10:00  Breakfast and Coffee are served
9:00  Committee Hearings Begin
9:00-10:00  How to use ALIS/Activate Accounts
10:00-11:00  State House Tours
11:00-12:00  What do I do next? Discussion and Action Steps
Legislator visits will occur throughout the day.